This weekend is looking like it's gonna be a soggy one, but that's no excuse to sit inside on your behonkus from now until time to leave for the office Monday morning.
There's plenty – and I do mean
plenty
– of ways to have a smashing time in T-Town this weekend. As heard this morning on
the KRMG Morning News with Joe Kelley
, here are all the reasons why not to spend the next three days shacked up with Netflix and last year's leftover Orville Redenbacher.
Tasha's Picks for the Weekend of Sept. 11
Friday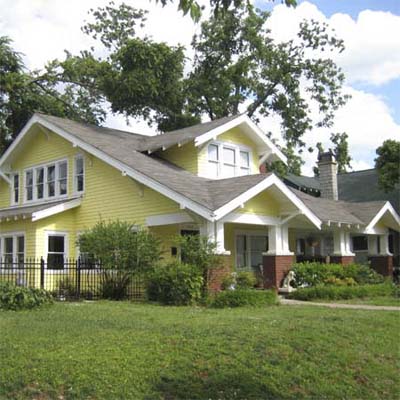 Wood Window Workshop
When: Friday-Saturday
Where: Brady Heights; Parish Church of St. Jerome, 205 W. King
Take DIY to the next level and learn the basics of historic wood window restoration from
Bob Yapp, Master Carpenter and former host of the syndicated radio show The House Doctor
, in one of three half-day workshops: Friday, 8am-12pm; Friday, 1-5pm; and Saturday, 8am-12pm. Cost is $10. Refreshments and materials will be provided.
Reserve space by RSVPing. Hurry!
Saturday
Something for the Dudes: Bluegrass and Chili Festival
When: Now through Saturday
Where:
Claremore Expo Center
Who doesn't love chili? Celebrate the reason for the football season northeast of Tulsa this weekend with some of the hot and spicy stuff, along with plenty of free, live music by Ricky Skaggs & Kentucky Thunder and Mountain Heart and others. Look for the Mid-America Regional Chili Cook-Off, the festival market, arts and crafts, an open car show and the Kiddie Korral so you can burn your mouth out in peace.
Something for the Ladies: Divas Gone Wild
When: Saturday at 7:30, Sunday at 4pm
Where:
Tulsa Zoo and Living Museum
, H.A. Chapman Event Lodge
Don your favorite cocktail party duds and
go wild with some of Tulsa's best musical talent
(including Rebecca Ungerman and Fiawna Forte, two of my very favorites), all to support the HIV/AIDS education efforts of H.O.P.E. of Tulsa. Tickets start at $15.
Sunday
Kings Champion Medieval Faire
When: Saturday, 10am-7pm; Sunday, 10am-6pm
Where: Chandler Park in west Tulsa
Looking for children's activities and demonstrations in Medieval arts by the local chapter of the Society for Creative Anachronsim, plus all other manner of Medieval-related stuff? Chandler Park is the place for you this weekend. Coincidentally, it's also the place for a 1/4-scale pirate ship – just in time to get good and prepared for
Talk Like a Pirate Day
.
Community
Chapters Literacy Fundraiser
When: Friday night, 6:30pm
Where: Hardesty Regional Library
Shocker: One in six adults cannot read the prescription label on a medicine bottle, understand a newspaper article or enter complete information on an application. The Ruth G. Hardman Adult Literacy Service exists to blow this statistic asunder, and this Friday night, you can help. Plus, you'll get to hang out with local authors
Tim Tingle
,
Jeff Martin
and
Teresa Miller
. Tickets are $40.
Rainforest Restoration Foundation Dinner
When: Friday, 6:30pm
Where:
Tulsa Zoo
Love turtles? Who doesn't? Dine at the Zoo this weekend to benefit the conservation of the Giant Amazonian River Turtle and the development of projects targeted at preserving biodiversity and community in the threatened Ecuadorian rainforest. Tickets are $50 and are available
by e-mailing the Rainforest Restoration Foundation
.
Swing, Rattle and Roll
When: Saturday, 6:30-11:30pm
Where:
Cains Ballroom
, 423 North Main
The 2009 Emergency Infant Services annual fundraiser will honor that tradition so close to the heart of this city, Western swing
. Don't miss the chuck wagon-style dinner and live auction, and bring your dancing shoes – oh, and $125. But, hey, it's for a good cause, and it'll be rip-roarin' party – plus, $95 of that ticket price is tax deductible.
Urban Indulgence
When: Saturday, 7-10pm
Where:
Hard Rock Casino & Resort in Catoosa
100+ beers, wines & spirits. Live action gourmet stations. Desserts from nearly 40 of Tulsa's sweetest restaurants. (Stay with me, there's more.) $1000s in prizes & giveaways. The chance to win a Takamine guitar signed by Oklahoma's own Toby Keith. Special guests
Kerry Vincent, Judge of the Food Network CHALLENGE
,
Mrs. Oklahoma International
and Elvis. Who else could throw a party like this but
Urban Tulsa Weekly
? Tickets are $25, and proceeds from the event benefit Tulsa Advocates for the Protection of Children & (ironically?)
the American Diabetes Association
.
Playdate Reloaded
When: Saturday, 8pm-2am
Where:
FlyTrap Music Hall
, 514 E. Second Street
What is Play Date?
It's an alternative to the typical night out, that's what
. There's drinks, food, music and Hungry, Hungry Hippos. As the saying goes, you don't stop playing because you get old; you get old because you stop playing. Admission is $10.
Third Annual Restaurant Week
When: Sunday-next Saturday
Where: All over Tulsa
The week of good food at an even better price kicks off just in time to ward off a case of the Mondays. Dine on a three-course, prix-fixe (or fixed price, meaning you get a number of meal choices under the umbrella of a certain price – in this case it's $12.95 for lunch, $29.95 for supper) at selected Tulsa restaurants, including
Avalon Steakhouse
,
The Brasserie Restaurant & Bar
,
KEO
and
Palace Cafe
- some of my very favorites. A portion of the proceeds benefits the
Community Food Bank of Eastern Oklahoma's Food 4 Kids Program
.
Music/Festivals
Free, Live Music at LaFortune Park
When: Friday night, 7-9pm
Where: LaFortune Park, in LaFortune Gardens
There should be good, dreary weather lined up for some smokey blues Friday night with
Wanda Watson
. Might want to pack an umbrella in that picnic basket.
India Fest
When: Saturday, 11am-5pm
Where:
Expo Square in Central Park Hall
I love Indian food perhaps more than is legal, and I've been waiting for this festival all year. Sample a wide array of food (!), music and dress at this festival, which benefits
the India Association of Greater Tulsa
. Admission is $4 for adults, $2 for kids ages 4-11. Parking is free.
A Taste of East Tulsa: Celebrating Family and Culture
When: Sunday, 1-5pm
Where:
Green Country Event Center, 12000 E. 31st Street
Family, music, dance, resources, fun and, oh yes, lots and lots of delicious food. This celebration of the 10th anniversary of the East Tulsa Prevention Coalition is sponsored by
the Community Service Council of Greater Tulsa and the East Tulsa Prevention Coalition
and is funded by CSAP Drug Free Communities.
Home



Tulsa House Beautiful Show

When: Friday, 2-9pm; Saturday, 10am-9pm; Sunday, 11am-6pm

Where:

Expo Square, QuikTrip Center

Remodeling? Renovating? Or, if you're like me, accidentally demolishing? Time to hit the Tulsa House Beautiful Show. There will be dozens of vendors who specialize in everything from landscaping to lighting design waiting to help the DIY-impaired beauty their dwellings. Adult admission is $6, kids 12 and under get in free.

Get $1 off admission by visiting the Expo Square Web site

.

Green Homes Tour

When: Saturday-Sunday, 1-6pm

Tour the first LEED Gold Certified single family home in the Tulsa area, at 1536 E. 35th Place

. Admission is $5. Whether you are an authority on the environmental impact of green living or you are new to the concepts of being green, all of Tulsa is invited to tour this home and learn how green building is a benefit to you and your community. By the way, this 4 bedroom, 3.5 bathroom, 3,381-square-foot Southern Living Dream Home costs $649,000. Who said green was cheap?

Tulsa Preservation Commission Open House

When: Saturday, 2-4pm

Where: The Parish Church of St. Jerome, 205 W. King

The benefits of preservation will be explored in a talk by Bob Yapp, and you'll get the chance to applaud the 2009 TPC Preservation Award winners. The open house is free and open to the public. Psst - Refreshments will be provided.

Other Stuff
Gallery Showing: Jason Yang
When: Friday night, 8-11pm
Where:
Ida Red Boutique
, 3346 S. Peoria Ave.
If you have a thing for pop art, you'll love
Jason's colorful, iconic art, boasting lots and lots of color, playful imagery and homages to vintage memorabilia, and unique depictions of everyday life
.
Stars Go Dim
will be on hand to play an acoustic set at the show.
Art Blast at Gilcrease Museum
When: Saturday, 10am-3pm
Where: Gilcrease Museum
Bring the family to Gilcrease to check out the new exhibition, "Emissaries of Peace: The 1762 Cherokee and British Delegations."
Here's what else there is to do: Create 18th-century inspired arts and crafts from Cherokee and British cultures; enjoy a puppet show and outdoor games on the Green; Listen to a Cherokee storyteller from the Cherokee Heritage Center; search galleries in a scavenger hunt that traverses Gilcrease Museum and
Philbrook Museum
(free shuttles will run 11am-3:30pm between both museums, by the way). Admission is free for families with children, thanks to
BofA
.
Fall Hot Loops
When: Saturday, Sept. 12, 7pm
Where:
Loops, in Utica Square
These shindigs, the ultimate of girlie parties, are nothing short of legendary. Be there for the unveiling of the fall Hot Loops wall, with patterns and fibers galore; a spread of munchies, including the Burnt Butter cupcakes that reportedly no one can resist; deep discounts on the purchases of the evening; an exclusive, bling-tastic party favor worth more than $20; and (whew!) pomegranate margaritas. What more do the yarn addicted need? All this for $25. To reserve your spot, call 742-YARN. Space is limited.
Cops on Donut Shops
Where: Krispy Kreme Tulsa, 71st and US 169
Rilla Askew @ Gardner's
As a dyed-in-the-wool book nerd, Rilla Askew is one of my faves. Not only is she an Oklahoma Book Award winner and the 2009 recipient of the Academy Award in Literature from the Academy of Arts and Letters, but
she's going to be at Gardner's Used Books & Comics this Saturday, signing books
. Gardner's has several of her books in stock, including "Fire in Beulah," "Harpsong" and "Strange Business." September is National Literacy Month, and Gardner's is celebrating by hosting a book signing with an Oklahoma author every Saturday, so keep your ear to the ground for more bookish goodness from 44th and Mingo.
Sports
College Football
When: Cowboys, Saturday, 3:30pm; Sooners, Saturday, 7pm
The Big 12 Oklahoma teams are at home this weekend, with the Cowboys take on the Cougars at home in the new Boone Pickens Stadium at Lewis Field in Stilly, the Sooners face Idaho State in Memorial Stadium in Norman and the Hurricanes are at New Mexico, while the Hurricanes take on New Mexico in, you guessed it, New Mexico.
Tasha Does Tulsa | Run Training: Take Two
When: Saturday, 10am
Where: RiverParks (meet on the Pedestrian Bridge overpass over Riverside Drive)
We're running a little more and walking a little less this week at RiverParks. Meet us on the overpass by the Pedestrian Bridge, and be prepared to run in the rain. As long as it's not freezing, drizzle is the best running weather.
Turkey & TATURS 50K/25K/10K Trail Race
When: Saturday, 6:30am
Where: Westside YMCA at Turkey Mountain
Turkey and TATURS – Get it? Heh, heh.
Back to business: The 50K starts at 6:30am; 25K at 7; 10K at 7:30 in the urban wilderness area that is Turkey Mountain.
R.K. Gun & Knife Show
When: Saturday, 9am-5pm; Sunday, 9am-4pm
Where:
SpiritBank Event Center in Bixby
If you love guns and knives you'll love this – all 500 tables of it. Adult admission is $10, kids get in for $3 and kids under 6 pay nothing. By the way, paid admission is good for both days of the show, so live it up with the weaponry.
American Miniature National Show
When: Now-Sept. 19
Where:
Expo Square
We humans have a penchant for miniature stuff: miniature dogs, miniature people and, of course, miniature horses. Catch this show of tiny horses – big fun in a small package, as they're called – all weekend and into next week.
Movies9
When: Opened earlier this week
The world's machines have turned on mankind and sparked social unrest, decimating the human population before before shutting down. It's all unicorns, puppies and sunshine from here.
Sorority Row
When: Opens Friday
Five sorority girls accidentally murder one of their sisters and are then chased by a murderer themselves. Yikes – sounds kinda like my personal favorite high school movie,
Jawbreaker
.
Tyler Perry's I Can Do Bad All By Myself
When: Opens Friday
Madea, America's most hilarious grandma, catches a group of juvenile delinquents and delivers to their aunt April, who wants nothing to do with the kids. Sounds like home to me.
Whiteout
When: Opens Friday
Kate Beckinsale hangs up her fangs and picks up a stint with the U.S. Marshals in Antarctica, just in time to investigate the continent's first homicide.
Soul Power
When: Opens Friday, 3:30pm
Where:
Circle Cinema
, 12 S. Lewis
An epic trip back to 1974 when the most famous R&B acts in the world put on a 12-hour-long concert to help promote Muhammad Ali and George Foreman's historic "Rumble in the Jungle" in Kinshasa, Zaire. A plot and a half.