Want to do something fun and hip with your sweetie on Valentine's Day? Dinner and a movie just not going to cut it? You're my kind of people.
In my opinion, the whole dinner-and-a-movie date is pretty much the worst ever. I mean, think about it. You're stabbing and masticating and otherwise pre-digesting in front of someone you're supposed to try to impress at some corporate food-serving establishment, and then you go sit in a dark box for two hours, saying not one word to each other while you try to guess if it's the right time to start making out.

Now? No? Okay. How about now?
No, thanks. Me and mine prefer Valentine's Day plans a little more, well, off the beaten path. We like to look for fun and romantic things to actually
do
together.
Everything going on in the name of love in T-Town this weekend that's listed below beats the pants off of the formulaic V-Day date. You won't even need a crowbar to free your shoes from the gelatinous ooze on the floor of some 3,798-screen movie complex. And indigestion from those "house special" empanadas, which you're pretty sure you saw in the freezer section next to the Totino's last week at the Wal Marts? Fuhgetaboutit.
If you like food and wine, head to
Stone Bluff Cellars
in the beautiful hills near Haskell for their
Valentine Weekend Lunch Sweetheart Special
. The lunch, which costs $25 for two, includes a half Stone Bluff club sandwich, a cup of Chef Mikael's savory soup and a decadent dessert. The special runs 11 a.m.-3 p.m. tomorrow and Saturday and 1-3 p.m. Sunday. If you want to make it a party of four couples or more, call (918) 482-5655 to make reservations.
Love to cook, but don't want to spend the evening at your place? Make reservations for the Valentine's Day weekend cooking class with Chef Sean at
Cowboy Sharkies
, just north of 61st and Memorial. The setting should be intimate enough, since seating at the class is limited to 20. The class, which runs $30 per person, begins at 6 p.m. Friday and Saturday night. Call (918) 280-9000 to get set up.
Always wanted to be part of one of those idyllic love scenes on a big, frozen pond, skating along in the arms of your sweetheart as the icy wind gives you an earache? Pine no more. Head to Skate Date at
BOK Center
.
The event
, which marks the first time Tulsans will skate on the arena's 17,000-square-foot frozen floor, will be held 10 a.m.-10 p.m. Saturday inside the BOK Center. Concession stands will be open, and long-stem roses and photos will be available in the lobby. Skaters pay $9 (kids and those with their own skates pay $5). After everyone's bum is thoroughly bruised, head outside for a 15-minute horse-and-carriage ride through the streets of downtown Tulsa. Rides are available 5-10 p.m. and cost $25 for a group of four, or $20 for a couple.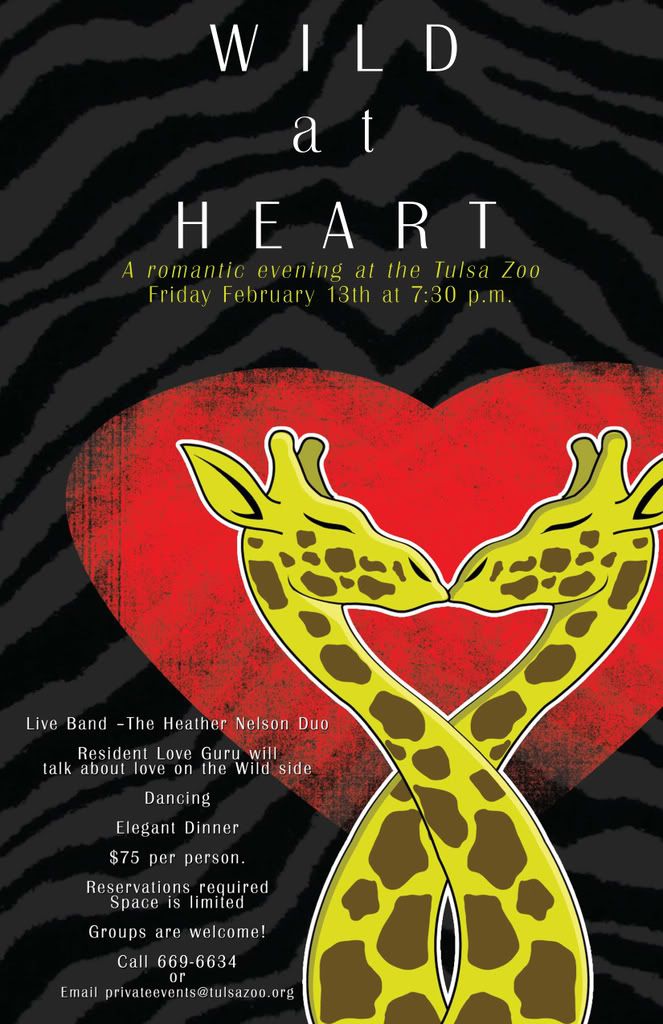 Have a wild kind of love? Good for you. Now call 669-6634 for your reservation to
Tulsa Zoo
's "Wild at Heart" Valentine's Day event. Woo her (or him!) with a decadent evening with fine cuisine and cocktails provided by Taste of the Wild Catering, and take a spin on the dance floor. After, enjoy a twilight train ride. If you're feeling
really
wild, look for the special presentations by zookeepers on the finer points of love and lust in the animal kingdom. The seduction - yours, not the animals' (I hope) - begins at 7:30 p.m. tomorrow night. There is limited space, so call ASAP.
Nothing says love like profuse sweating and rapid heart palpitations - at least, for all you lovey-dovey Tulsa runners out there. Start the day by heading down to Veteran's Park at 21st and Boulder for the 2009 Sweetheart 5K and 10K Runs. There's still time to register, so visit
the Fleet Feet Sports Web site
to learn more and sign up.
Calling all you lovers who like to play dress-up! Head to the
Valentine's Masquerade Ball
at
The Collective
. Get in the doors for $5 (just $3 with a mask or costume - mask-making supplies will be available at the party, so no worries if you couldn't dig one up beforehand) and see DJ Baby Ruthless (Dallas, TX) and local favorites Skeeter, Nutter, Frequency and Emmanuel Rivers. The party starts at 8 p.m. and benefits the American Heart Association.
UPDATE, Feb. 13//
Just found another wine event! This one, at
Whispering Vines Vineyards and Winery
in west Tulsa, involves a
murder mystery
, with a wine tasting before. The show, which costs about $60 per person and includes dinner, starts at seven. Call (918) 447-0808 to beg for reservations, since my bet is there are only a few seats left.
And Tasha said: Let the lovin' begin.