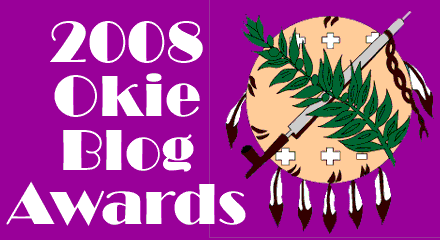 Over the past few weeks, Oklahoma bloggers' votes for the best blog in the state were cast and tallied. Now,
the results are in
.
The best blog in the land is
Confessions of a Pioneer Woman
, a blog which I confess to reading pretty much obsessively.
Ree Drummond
's Confessions, where routine posts on her life on a working cattle ranch garner hundreds of comments, is great evidence for the argument that people aren't interested in Oklahoma because of its world-class museums or behemoth event centers. Not that they aren't great, and not that I don't love them myself, but they're all over the place.
Rather, it's the things about our neck of the woods that can't be found anywhere else - parts of the state where there are more cows and horses than people, real-life cowboys descended from generations of the same and acre after acre of gently rolling prairie - that draws attention from the world over. Good job, P-Dub, for directing eyes from all over this big, wide world to little ol' Oklahoma. I'd love to know the number of people who have decided to make Oklahoma their next travel destination thanks to the beautiful photos of the landscape on that blog. No wonder Drummond also took the Best Looking Blog award.
*Blink blink* Squee!
I'm so humbled to have won the approval of my fellow Okie bloggers not just once, but for two years running. I love writing this crazy blog, and I'm so glad you all think it's pretty good, too.
Thanks, y'all.
Sorry. I always manage to ruin a tender moment.